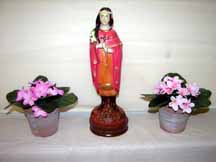 The Catholic Daughters of the Americas Court St Mary's # 929 Our regular monthly meeting was held on Thursday June 11th 2009. The meeting was well attended and the business part of the meeting produced many fruitful projects. Our state treasurer Marlene Nalli send us a small statue of the Blessed Kateri Tekatwitha. Our opening prayer was for her canonization. As you know her shrine is in our Albany diocese district. The shrine is a lovely place to visit. Please try to visit.
O God who, among the many marvels of Your Grace in the New World, did cause to blossom on the banks of the Mohawk and of the St. Lawrence, the pure and tender Lily, Kateri Tekakwitha, grant we beseech you, the favor we beg through her intersession: that this Young lover of Jesus and of his Cross may soon be counted among the Saints by Holy Mother Church, and that our hearts may be enkindled with a strong desire to imitate her innocence and faith, Through the same Christ our Lord. Amen
Members were enthusiastic about our next penny social and raffle being held on August 8th 2009. Anyone interested in participating, we would welcome your assistance. We are also in need of your treasures; those can be donated by calling Socorro Marin or any other Catholic Daughter Member. Raffle tickets will be for sale soon. The proceeds will help all of our charitable works.
It was decided that the ladies would take some time for fellowship at the meetings and we would assemble a memory scrapbook and also we would make some warm throw blankets for our parish friends who are shut in, They will not only remind them that we are praying and thinking of them but will keep them warm and cozy while they are recuperating, This project will start at our next meeting.
We are also going to take part in the Summer School program by providing a bag lunch for all the students who attend. This project will be in partnership with our sisters in Christ, The United Methodist Women. The program runs for three weeks starting July 13th 2009. Anyone interested in helping prepare lunches can contact either of the organizations.
These two projects are dedicated to service others and will help us to continue our mission, which is service to God and of course to one another. Our Motto, Unity and Charity. Our august meeting will be our annual picnic, Please join us for some leisure and fellowship time.
The Ladies enjoyed a short slide show of The Hancock Community Preschool year in review.
Please keep all of our Friends and members in prayer especially those that are ill. We pray for their speedy recovery and May the Lord give them strength and perseverance in their time of need. Amen
Next meeting is July 9th2009 7:00 PM.